Description
Latex is a naturally derived biodegradable product. It comes from the rubber tree. It is hypo- allergenic and breaths to keep you warm in winters and cool in summers. Bacteria, mildew and mold cannot live in latex mattress. Independent tests prove that latex mattresses are three times more resistant to dust mites and bacteria than any other mattress. The benefits of a latex mattress is anti fungal, hygienic, self-ventilation, anti dust mite, excellent body support and ergonomic. Its open-cell structure lets air move freely, keeping you warm in winter and cool in summer. It also retains its shape better against the warmth of your body. Latex maintains the same level of support regardless of temperature. Memory foam will support body weight evenly, relieve pressure focused on the shoulders, hips, and feet, and eliminate motion disturbance. The result is a unique and unprecedented sleeping experience. Exclusive Tencel Fabric is of botanic origin, since it is extracted from the raw material wood. Tencel Fabric is more absorbent than cotton, softer than silk and cooler than linen. Its universality makes it possible to enjoy a completely botanic bed from nature. Nothing is dreamier than that when you go to sleep in a botanic bed.
Organic Fabric Extracted From Wood Which Is More Absorbent Than Cotton, Softer Than Silk & Cooler Than Linen
100% Pure Natural CertifiedBy Eco Instut, LGA & Oeko-Tex
Recommended To Combat The Problems Like Back Ache, Joined Pain.
It Is Anti Fungal, Hygienic, Self Ventilation and Anti Dust Mite.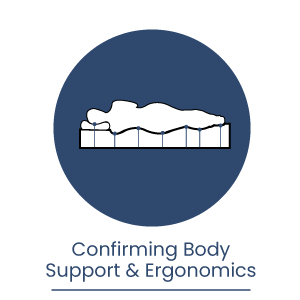 Relieves Stress From Hips Spine, Shoulders And Neck.