Description
Bonnell Spring Mattress has become a leader in the Mattress World for those who want a firm sleep surface.Bonnell Spring Mattresses have wire coils as the support structure. This mattress has a strong border wire attached to the perimeter of the coils. The border wire supports the coils, helping to retain shape and reduce sagging. The edge is enforced with specially shaped "M" springs to support the sleep surface right to the edge, to help prevent `rollout' and edge breakdown. The upholstery is separated from the spring system by an insulator, a tough padding and netting layer that prevents the upholstery from sinking into the coils. Boston Bonnell Spring Pillow Top Mattress features advanced bonnell spring support structure with additional soft pillow top layer, filled with super soft PU foam. This luxurious top layer offers additional loft and softness, while providing resilience to body contours. Pillow top mattresses are the solution to solving the pains of a regular firm mattress, utilizing multiple layers of foam and pillow cushioning to give you that unmatched level of comfort needed to fall asleep and stay asleep.
A Unique Quilted Cover Includes An Inch Of Cushioning Foam.
Proper Air Ventilation for Better Hygiene.
100% Pure ISI Certified Foam
Thick Cushioning Layer For Enhanced Comfort
Enhances The Life Of The Padding Layer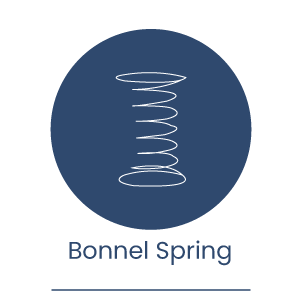 Those Heavy Duty Gauge Coils Are Both Supportive And Durable