Description
TheBonnell Spring is the classic spring unit, and has, through the years, proven its worth. It is made from around hourglass shaped springs which are tied together to form a mat. A round helical crosswise connects each single spring to a spring unit. Spring Mattresses have a leading edge over other types of mattresses because it provides better support and comfort to your body, an innovation that changed the mindset of the bedding industry which is globally used in the hospitality industry world over. Support is an important characteristic, which positions the body correctly for a restful sleep. The mattress should support body weight evenly over the surface of mattress such that the hip and shoulder area should be accommodated without sagging of the back. To ensure proper back support and quality sleep our mattress is made up of a minimum of 15 layers. Therefore when you buy a Boston Mattress, it will provide the basic value what a spring mattress is expected to deliver i.e. better comfort and support.
A Unique Quilted Cover Includes An Inch Of Cushioning Foam.
100% Pure Sleep Grade Foam
Enhances The Life Of The Padding Layer.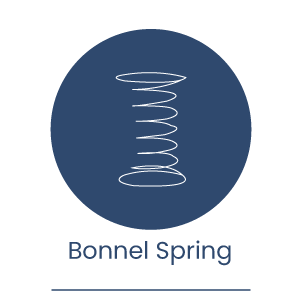 Those Heavy Duty Gauge Coils Are Both Supportive And Durable.
Proper Air Ventilation for Better Hygiene.