Description
Boston Memory Foam Mattresses are designed to eliminate tossing and turning caused by pressure points. Most people do not get the required 8 hours of sleep. In fact, most people only average 6 hours of sleep. If you are only going to get 6 hours of sleep, get a better 6! This reserved level plush sleep set represents an exceptional value with upgraded features over any other mattress. The mattress is a combination of Bounce Back Foam and Memory Foam. Memory Foam forms to your body and help your body actually relax. When you lie on memory foam, the foam moulds itself to the contours of the body, providing excellent support at the pressure points along the spine, neck, legs and elsewhere. This makes it possible to avoid some of the stresses on the skeletal and muscle systems of the body that are incurred during sleep on any other type of surface.
A Unique Quilted Cover Includes An Inch Of Cushioning Foam.
100% Pure Sleep Grade Certified Foam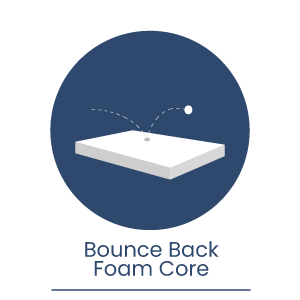 Responsive Open Cell Foam Compresses Evenly Under Body Weight
Air Moves Freely To Trap Your Cool In Summer And Warm In Winters.
Relieves Stress From Hips Spine, Shoulders And Neck.