NECESSARY TO HAVE A PROPER SLEEP - YES! IT IS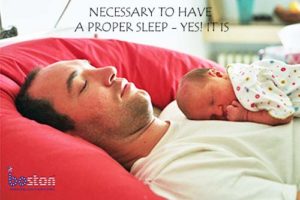 Sleep plays an important role in a person's well being and health. It involves curing various problems related to heart, immune system and other joint problems. On an average, 8 hours of sleep is necessary for a healthy body or else problems like cold, headache, sickness, high blood pressure covers the entire human body. It is as important as having healthy food and doing regular exercise. But, western culture is influencing the sleep patterns which is resulting in harmful results. Sleep quality has decreased and people on an average are sleeping less than what they should actually be doing.
Poor sleep is related with eating. If a person doesnt sleep well they can develop habits of eating more than their actual diet. This leads to over eating and makes them obese because the people are not indulged in any physical activity. If a person is trying to reduce weight then having proper sleep of correct duration is very crucial. Appetite hormones are effected badly when a person sleeps less thus resulting in intake of more calories.
Brain is also linked with proper sleep. Concentration and productivity of the brain can be improved by taking appropriate sleep. Problem solving skills are also improved with good sleep. Both children and adults require sleep to remain healthy. Less duration results in lack of mental well being and poor exercise performance of the brain.
Heart disease and stroke are more likely to occur in those people who are deprived of proper sleep. Chronic diseases are more likely to develop due to lack of proper sound sleep. Metabolism of a person is also affected and risk of diabetes increases. In short all the diseases which are critical commences in a person's body. Many people are always thinking something, listening something and respond to another thing. This occurs because of lack of sleep. Depression is another main effect. Insomnia is a thing which can take the body from better to worst.
Therefore, it is very important to have a good sound sleep to improve the immune system which fights all these problems and can keep the body fit and healthy by fighting the problems which may arise due to lack of sleep. Eating more garlic is also useful in getting good sleep and improving the immune system. Pillar of health can be build with all the important elements only namely good sleep, proper eating habits and regular exercise. optimal health can be achieved with all these together and leaving even one behind can be harmful for the body.
When considering a good sleep as an important factor, BOSTON MATTRESSES provide such a facility or rather a benefit over other mattresses. Nowadays, tourism industry is at bloom. Mostly people come up with the problem that they lack sleep when out of station, in order to solve such an issue Boston Mattresses came up with the idea of Hotel Comfort series of mattress. Hotel comfort mattresses are designed to provide comfort to people who often go for travelling. After spending the whole day in walking, exploring new places or having fun, everyone wants a good sleep to reduce their body stress. This is fulfilled by hotel comfort mattresses which provide comfortable, elastic and such mattresses that are soft and manage body weight by spreading it all through the mattress. They focus not only on removing the body stress but provide back support, lower body support and ensure that if someone is suffering from some serious illness or problem then that person is able to rest their body on the mattress and feel comfortable and better.
Boston Mattresses tend to minimize the problems of lack of proper sleep, insomnia and major immune effected problems by making such mattresses that cover all these small aspects that can turn big in future. Thus Boston Mattresses ensure that the person is having proper and sound sleep to have a healthy and bright day ahead.